Roll over image to zoom in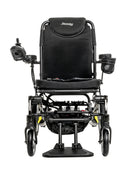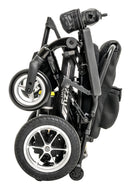 Description
The Jazzy Passport is the perfect combination of ease, convenience, and mobility. It's an ideal option for those who are looking for easy movement as well as the ability to easily transport the chair without concerns or stresses. The Passport chair also offers a wide range of features and amenities that make it a prime choice for many users. As a Class II Medical Device by the FDA it's well-designed to aid those with mobility impairments.

Convenient and Collapsible
The Jazzy Passport chair's prime feature is the expert engineering that allows the chair to be folded up for easy transportation in a vehicle. In just a few basic steps, the chair is collapsed in a matter of seconds into a small, convenient piece that can be easily stored to keep it out of the way, yet still remains accessible.
Whether it's for infrequent use or for travel and transportation, the chair is durable and reliable yet ideal for storage and putting away regularly. It is also relatively lightweight when compared to other traditional powerchairs, which adds to the convenience of transporting it.
Mobility
The Jazzy Passport sits on four sets of wheels, two smaller front wheels and two durable, sturdy rear wheels. The front wheels are solid, 8 inch wheels that help with steering and maneuverability. The chair has a moderate turning radius at just over two feet, which works well for maneuvering through hallways and turning corners. The rear wheels are full 12-inch pneumatic drive wheels which help keep the chair stabilized when in motion, and provides for higher ground clearance (apx 3 inches) when traveling across more difficult surfaces.
The electric powered chair includes a powered joystick for added maneuverability with gentle turns and movements. 
Comfort and Affordability
When it comes to comfort, the Passport chair still maintains a comfortable design even in conjunction with it's portable design. It includes:
5 by 16.5 inch seat, which is spacious, padded, and coated in a durable protective lining.

Backseat pocket for additional storage space

Padded back-seat lining

A mesh cup holder to keep your drinks and beverages close and accessible

A more moderate price tag compared to some of the other high-end chairs
You'll travel in comfort and convenience in the Jazzy Passport, the foldable power chair with excellent mobility and range.
Simply fold and travel with the Jazzy® Passport. This compact power chair folds in just a few steps and offers convenient storage and ample foot room. Travel in comfort with the Jazzy Passport.
Turning Radius: 24.25"
Width: 23.5"
Length: 40"
Ground Clearence: 3"
Front Wheels: 8" solid casters
Drive Wheels: 12" Pneumatic drive
Rear Wheels:
High-Back Seat-to-Floor Range: 19'
Standard Seat Size: 17.5" x 16.5"
HCPCS Codes: K0899
FDA Class II Medical Device*
*Pride FDA Class II medical devices are designed to aid individuals with mobility impairments