Roll over image to zoom in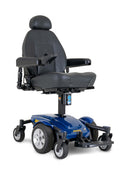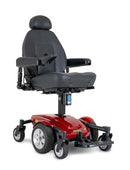 Description
The Jazzy Select 6 power chair wheelchair is an easy-to-use chair with modern convenience and maximum front stability. If you're in the market for a standard yet high-performance chair that allows for stability and security and simplicity, the Select 6 just might be the perfect choice.
Stability and Security
The Jazzy Select 6 uniquely features mid wheel drive, with the solid, 10-inch drive wheels placed closer to the front-end of the power chair. Placed close behind the front solid caster wheels, the drive wheels are able to allow increased mobility and sharper turns and maneuvers around corners. This helps the Select 6 have a turning radius of just under 22 inches, which is ideal for sharper corners.
Stability is also provided through the four solid caster wheels, each at 6 inches, which provide front-end and back-end stability and balance when maneuvering through indoor and outdoor terrain.
Ideal Power and Strength
The Select 6 power chair features a charge that will last up to 15 miles before needing to be recharged, a 300 pound weight capacity, and a solid speed that reaches a maximum of 4 miles per hour. The chair also includes a dual-layer of powder coating on the frame which helps increase the durability of the materials, ensuring it will last for years to come.
Fluid Rides
The Select 6 power chair also includes Active-trac Suspension, which helps decrease the impact of tricky terrain or rocky surfaces. This helps increase the enjoyment of a trip outdoors. The powerchair is controlled and steered with the use of an in-line joystick mount, which swiftly and easily makes turns and changes in direction or movement. It's a straightforward and easy to use piece of equipment that only further enhances the users experience.
Additional features of the Select 6 include:
Adjustable foot platform: The foot-platform is not only designed with grip-surface technology, but it is multi adjustable for height and depth. It can also be flipped up so it's placed out of the way.
Seat and chair size: The chair has an overall width of 23.5 inches and a length of 35.5 inches, which contribute to the convenience and compact nature of the powerchair. The chair size ranges from 16x16 inches and goes up to 20x20 inches.
Ground clearance: The ground clearance for the Select 6 is just under two inches, at 1.75 inches in total.
The Select 6 is a comfortable, convenient, and compact power chair that offers users a range of options and features.
The Jazzy® Select 6 provides maximum front stability, combined with the advantages of in-line motor technology. Active-trac® Suspension and 6" front and rear casters for superior performance indoors and out. An impressive selection of standard convenience features make it the easiest power chair to use.
Turning Radius: 21.875"
Width: 23.5"
Length: 35.5"
Ground Clearence: 1.75"
Front Wheels: 6" solid casters
Drive Wheels: 10" solid
Rear Wheels: 6" solid casters
High-Back Seat-to-Floor Range: 21.25" - 23.25"
Standard Seat Size: 16" x 16"-18",
18" x 18"-20",
20" x 20"-20",
HCPCS Codes: Group 2: Standard (K0822/K0823)
FDA Class II Medical Device*
*Pride FDA Class II medical devices are designed to aid individuals with mobility impairments