Roll over image to zoom in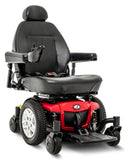 Description
With the Jazzy 600 ES's unmatched stability and control, any user will feel confident and secure with their mobility every single day. When peace of mind is just as important as freedom and maneuverability, it's a worthwhile investment.
Lasting Comfort and Lasting Battery Life
The Jazzy 600 ES boasts an impressive battery life, with a single full charge lasting up to 17 miles before charging is needed again. Any user will feel confident in their ride with the lengthiness of the battery life for this power chair. 
Comfort features for the 600 ES include:
Adjustable back seat: The back seat not only sits high, but users can slightly adjust the depth of the chair for improved posture and comfort, as well as allow a slight incline into the chair.
Adjustable foot platform: Whether you need to adjust it for comfort or height, the foot platform can be subtly raised or lowered to suit your needs, and it can also be flipped up entirely out of the way.
Ergonomic comfort seating: Along with having an ergonomic design, the seat and back seat are both given comfort paddings that are firm yet allow for a completely comfortable ride, even during longer uses. Seat sizes range from 18x18 inches to 20x20 inches.
Compact and Stable
The 600 ES is engineered to be conveniently compact to allow for more comfortable uses in smaller spaces. However, the compact nature doesn't sacrifice the stability and security of the chair during movement.
With it's compact design, length and width of the 600 ES are 35.5 inches and 24.5 inches, respectively. This allows the user to have an easier time moving into more trying spaces with ease and confidence. The ground clearance is just short of three inches, at 2.75 inches in height, and the turning radius is an impressive 20.5, well below the usual 2-foot+ turning range of most power chairs.
Lastly, the 600 ES features two 14-inch drive wheels that are durable and have solid traction, while the front and back wheels are solid OMNI-casters, which help to prevent catching and allow for more fluid movements. The power chair also features Active-Trac ATX Suspension which makes traveling over difficult terrain more smooth and easy.
If comfort, security, and peace of mind are just as important as an efficient and compact vehicle, the Jazzy 600 ES is an excellent power chair to get the job done.
The Jazzy® 600 ES provides excellent performance and outstanding stability. Its compact design and standard Active-Trac® ATX Suspension allow it to excel indoors and out, making it a superb, all-around power chair choice.
Turning Radius: 20.5"
Width: 24.5"
Length: 35.5"
Ground Clearence: 2.75"
Front Wheels: 6" solid OMNI-Casters
Drive Wheels: 14"
Rear Wheels: 6" solid OMNI-Casters
High-Back Seat-to-Floor Range: 20.5" - 22.5"
Standard Seat Size: 18" x 18"-20",
20" x 18"-20"
HCPCS Codes: Group 2: Standard (K0822/K0823)
FDA Class II Medical Device*
*Pride FDA Class II medical devices are designed to aid individuals with mobility impairments