Roll over image to zoom in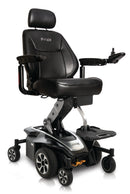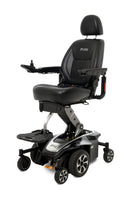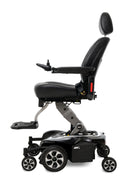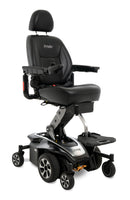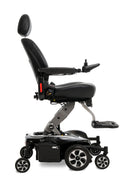 Description
The Jazzy Air 2 is a powerchair on a whole other level, literally! One of the key features of this chair is its ability to elevate a foot in just eleven seconds, granting the user versatility and visibility when using the chair. This feature is a game changer when it comes to adjusting the seat at tables or social events or reaching counters. It allows the user a greater feeling of dignity to be able to rise to needed levels, and allows for more face-to-face interactions, helping with confidence and sociability when needed.
In addition to the elevation feature, this Class II Medical Device is more compact which makes movement easier, and has a sleek, modern, more minimalist look.
Drivability and Mobility
The navigation of the Jazzy Air 2 is the powered joystick, which allows the user easy and swift movements that make it easy to keep up and stay in the moment. Although the chair is just under two feet wide, it has easy steering and movements that are aided by the use of six wheels in total. This includes all flat-free tires, with the two front and two back wheels at just six inches in diameter, and the central driving wheels at 10 inches. The smaller wheel sizes make movements more swift, won't go flat or get popped, and keep the chair lighter and more mobile. The ground clearance sits at just one inch, so this isn't the chair for hopping curbs or going over large bumps and cracked terrain. It rides smooth and easy.
Comfort and Control
The Air 2 has a maximum speed of four mph for driving, and movements are smooth and fluid. It's an excellent power chair for both indoor and outdoor use, and is especially ideal for the more social settings.
With just under a 22-inch turning radius, a one inch ground clearance, and a width of under two feet, it's easy to maneuver around no matter how crowded or small a place is. This is in addition to the comfort of the chair, which allows for multiple seat sizes from 16-inches to 22-inches in customizable sizes. The back seat sits at anywhere from 21 to 33 inches tall, and includes padded seats, backs, headrest, and armrests, which further improve the comfort level of the user.
The Jazzy Air 2 is the ideal chair for someone looking to feel comfortable and included in a modern, and expertly designed power chair.
Elevate your life to the next level! At the touch of a switch, the Jazzy Air® 2 elevates 12" in just 11 seconds. With a sleek, more modern look, this power chair safely drives at speeds up to 4 mph while elevated, allowing users to enjoy face-to-face social engagement. With Mid-Wheel 6® Drive and Active-Trac® Suspension, the Jazzy Air® 2 offers enhanced performance and stability both indoors and out.
Turning Radius: 20.75"
Width: 23.19"
Length: 41.93"
Ground Clearence: 1"
Front Wheels: 6" flat free
Drive Wheels: 10" flat free
Rear Wheels: 6" flat free
High-Back Seat-to-Floor Range: 21.25" – 33"
Standard Seat Size: 16" x 16"-18",
18" x 18"-20",
20" x 20"-22",
HCPCS Codes:
FDA Class II Medical Device*
*Pride FDA Class II medical devices are designed to aid individuals with mobility impairments