Roll over image to zoom in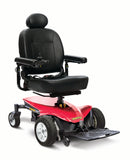 Description
If you have a difficult time choosing between incredible power and strength or superior mobility and maneuverability, then the Jazzy Elite ES is the perfect chair that meets in the middle. It's an excellent chair that is well balanced to suit the versatile needs of any user looking for convenient mobility, durability and strength, and great power.
Power and Durability
The Elite ES power chair features a solid battery life, with up to 13.5 miles capable between each charge. It is also a moderately powerful chair that can reach speeds of up to 4mph and can carry a maximum of 300 pounds due to it's durable build and reliable wheels. It has a slightly lower ground clearance, but at 1.5 inches it can still manage well on bumps and inclines on the ground's surface.
The main drive wheels are solid and are each 9 inches, which helps to absorb impact and irregularities or disruptions on the ground.
Maneuverability and Mobility
The mobility of the Elite ES is impacted by it's turning radius of 24.25 inches, which is on par with most high-quality and high-performance power chairs, and allows for good turns with corners and smaller spaces. Mobility for this chair is further enhanced with the application of front-wheel drive capabilities with the use of the two larger front wheels, which aids in movement around corners and tight turns. The Elite ES is controlled with the use of an in-line joystick, which is easy for any user to control and allows for ease in directional changes.
Comfort and Security
The front of the Elite ES features two small front wheels, each at 3 inches, which are carefully placed for anti-tip protection when taking on grades, inclines, or higher speeds. The added peace of mind this type of security and stability has only further justified why this is an elite-level power chair.
Additionally, the seat sizes range from 16x16 inches to 20x20 inches. The back seat allows for subtle reclines for comfort and posturing, as well as a headrest for both protection and comfort. Lastly, the Elite ES can be selected in a red and blue color option.
If you're looking for a well-balanced, high-performance machine to give freedom and peace of mind with extreme comfort and security on a regular basis, the Jazzy Elite ES is a great option.
The Jazzy® Elite ES delivers a reliable blend of power, performance and style. In-line, front-wheel drive technology gives the Elite ES excellent stability and maneuverability for solid performance indoors and out.
Turning Radius: 24.75"
Width: 22.75"
Length: 34.75"
Ground Clearence: 1.5"
Front Wheels: 3" solid anti-tips
Drive Wheels: 9" solid
Rear Wheels: 6" solid casters
High-Back Seat-to-Floor Range: 21.5" - 23.5"
Standard Seat Size: 16" x 16"-18",
18" x 18"-20",
20" x 20"-20",
HCPCS Codes: Group 2: Standard (K0822/K0823)
FDA Class II Medical Device*
*Pride FDA Class II medical devices are designed to aid individuals with mobility impairments